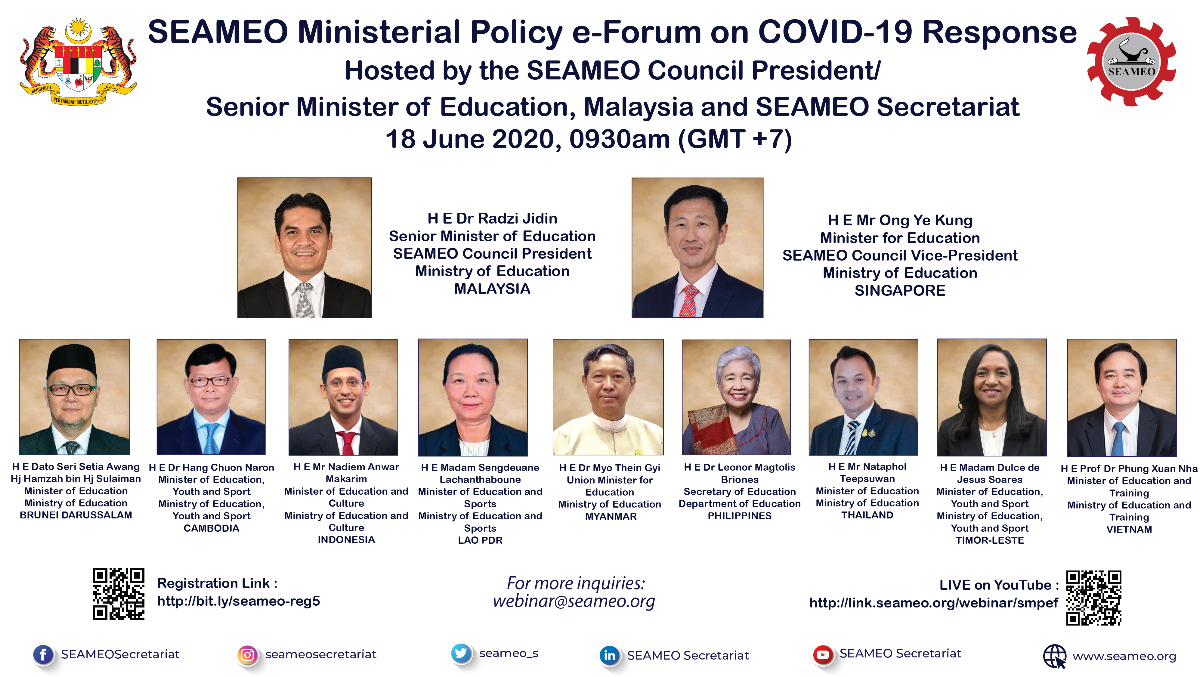 The SEAMEO Council President, Senior Minister of Education, Malaysia, in collaboration with the Ministers of Education in Southeast Asia, and SEAMEO Secretariat will host the historic first SEAMEO Ministerial Policy e-Forum (SMPeF) on COVID-19 Response on 18 June 2020, 9:30AM (GMT +7). This is the first virtual gathering of 11 education ministers Member-Countries of SEAMEO as they share their best practices during the C-19 lockdown and discuss their education policies to ensure that learning takes place, wherever, whenever. Specifically, SEAMEO Ministers are expected to share their responses on the following:
How did the Ministers prepare and manage the whole education system during the disruptions caused by COVID-19 pandemic?
How did the Ministers ensure that learning takes place, regardless if the learners are in the schools or in their homes?
What are the good practices and solutions that redirected the teacher educators and learners to continue learning despite the school lockdown?
What is the reimagined future and how do Ministries transition from the education disruption to the post-COVID-19 world?
This e-Forum is open to the public. Pre-registration is required by accessing this weblink: http://bit.ly/seameo-reg5. All educators and other education stakeholders are invited to join us in this historic first SMPeF and to learn the best practices and education policies straight from the Education Ministers. A joint statement of ministers shall be released after this e-Forum.