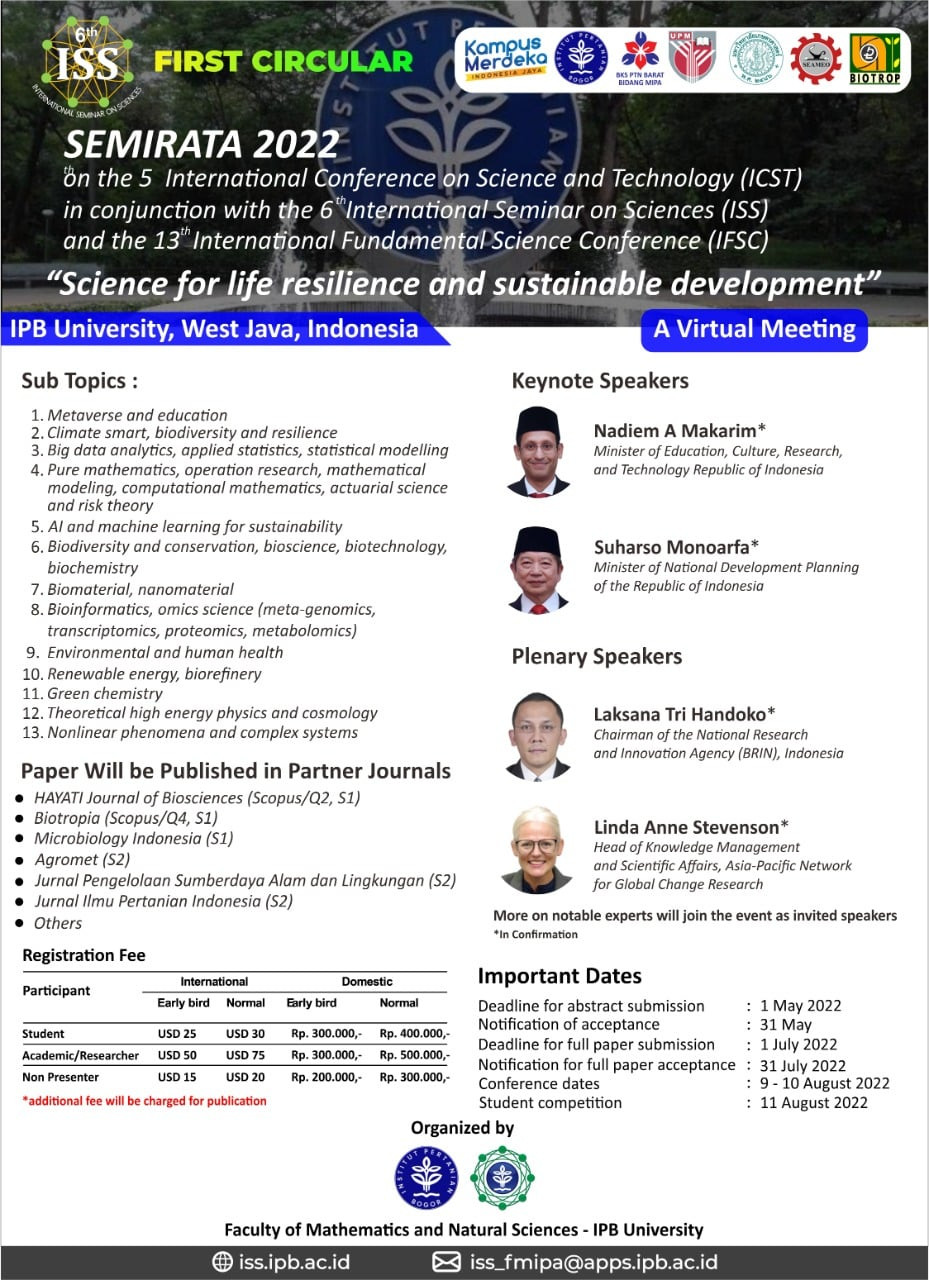 FIRST CIRCULAR
FMIPA IPB bekerjasama dengan BKS PTN Barat Bidang MIPA, Universiti Putra Malaysia (UPM, Malaysia), Kasetsart University (KU, Thailand), dan SEAMEO BIOTROP akan menyelenggarakan:
SEMIRATA 2022 on the 5th International Conference on Science and Technology (ICST) in conjunction with the 6th International Seminar on Sciences (ISS) and the 13th International Fundamental Science Conference (IFSC)


pada 10-11 Agustus 2022 (daring).


Kajian yang diangkat pada acara ini adalah Science for life resilience and sustainable development dengan beberapa sub topik sebagaimana tercantum pada pamflet. Kami mengundang Bapak/Ibu dan mahasiswa bimbingan untuk berpartisipasi mengirimkan abstrak dan artikel hasil penelitian.


Artikel yang dikirim akan diseleksi dan dapat dipublikasikan di beberapa jurnal yang dikelola oleh anggota BKS PTN Barat Bidang MIPA, seperti:
>>HAYATI Journal of Biosciences (Scopus, S1)
>>Biotropia (Scopus, S1)
>>Microbiology Indonesia (S1)
>>Agromet (S2)
>>Jurnal Pengelolaan Sumberdaya Alam dan Lingkungan (S2)
>>Jurnal Ilmu Pertanian Indonesia (S2)
>> dll


Demikian informasi awal kami. Mohon bantuan juga untuk meneruskan info ini ke kolega Bapak/Ibu. Bila ada yang didiskusikan, bisa hubungi narahubung kami di: iss_fmipa@apps.ipb.ac.id

Terima kasih