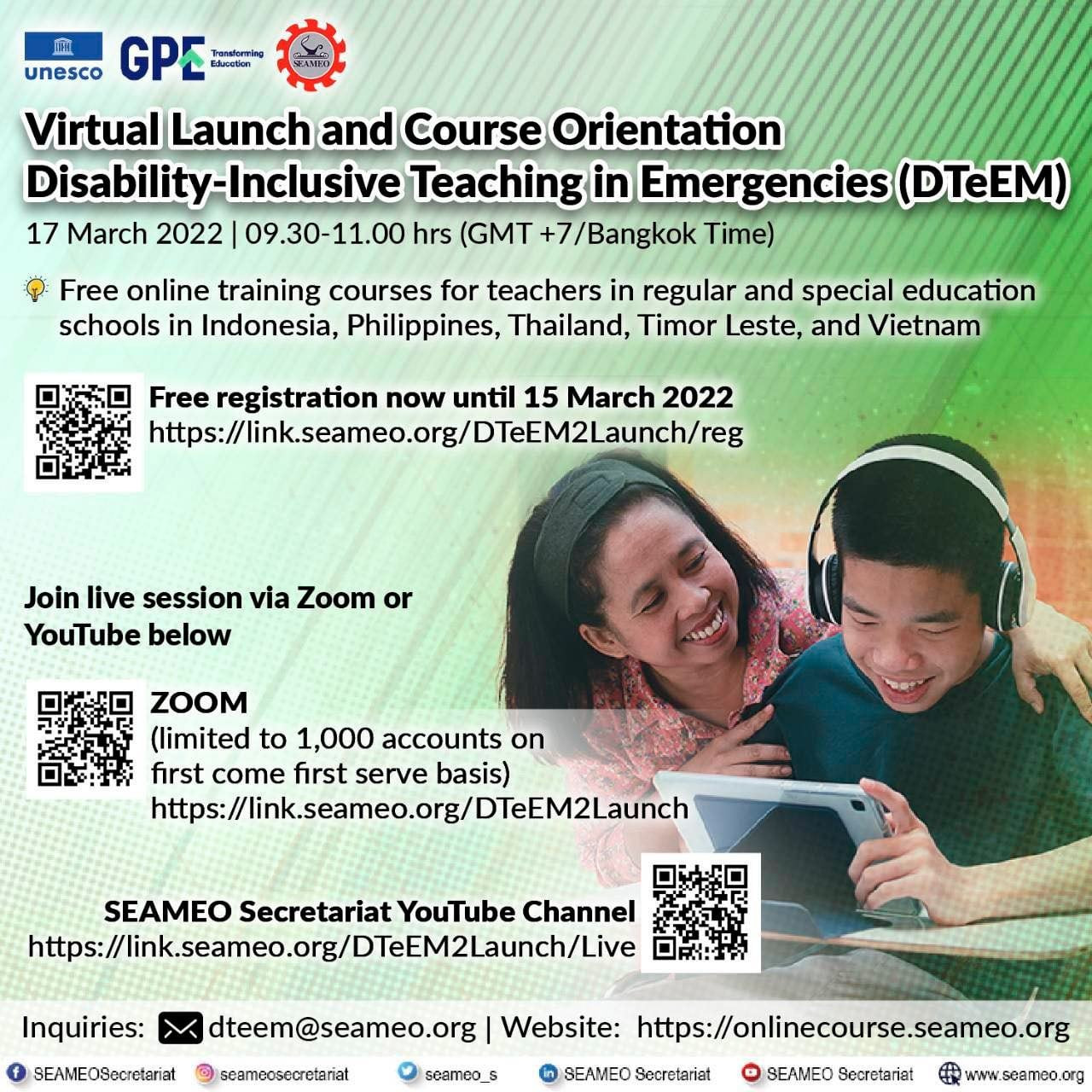 The SEAMEO Secretariat in collaboration with UNESCO Asia Pacific Regional Bureau for Education (UNESCO Bangkok) and Global Partnership for Education (GPE) will re-launch the DISABILITY-INCLUSIVE TEACHING IN EMERGENCIES (DTEEM) ONLINE COURSE on THURSDAY, 17 MARCH 2022, 9:30 AM – 11:00 AM (GMT+7/BANGKOK TIME).
The free online course will be rolled out in INDONESIA, PHILIPPINES, TETUM, THAILAND, AND VIETNAM to sustain the gains of the pilot run of the course in 2021 in Bhutan, Cambodia, Lao PDR, and Timor Leste. The second batch of learners of DTeEm can opt to enroll in one of the following languages and learn on their own pace: English, Bahasa Indonesian, Dzongkha, Khmer, Laotian, Thai, Tetum, and Vietnamese.
AVAILABLE 8 LANGUAGES FOR THE ONLINE COURSES:
ENGLISH, BAHASA INDONESIAN, DZONGKHA (BHUTAN), KHMER (CAMBODIA), LAOTIAN (LAO PDR), THAI, TETUM (TIMOR- LESTE), VIETNAMESE
EXPECTED OUTPUTS AND OUTCOMES OF THE ONLINE COURSE:
This online course intends to develop capacity of teachers to adequately support children with disabilities during and post crisis including but not limited to COVID-19. The course contains several innovative pedagogies/approaches on psychosocial support, assistive technologies for learning and emergencies, keeping safe during emergencies, learning from home, and getting back to school setting after school disruptions.
Learners who will take the online course receive the following:
Free online training with four modules
Four Badges for completing each module
Certificate for completing the course